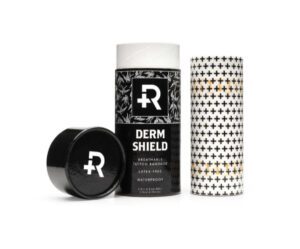 If the artist has applied Derm Shield:
The Recovery Derm Shield on for 3-4 days as recommended by your artist. It will protect your tattoo during it's healing process.
After the 3-4 days, gently peel away the Derm Shield back over itself. This will work best while under warm, running water in the shower.
Once you have removed the Derm Shield, wash your tattoo immediately with Dial "gold bar" soap.
Apply your Ritual Aftercare to the tattoo area to moisturize and protect your new tattoo. A little bit goes a long way, so don't over apply the Ritual. If you put small dots of Ritual on your tattoo, and let it melt with your body temp a little, application is much easier and it spreads evenly.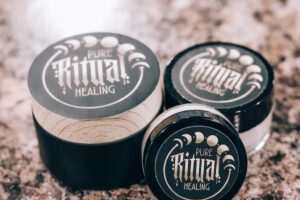 For the next 2 weeks... easy as 3-2-1
Wash with DIAL soap, pat dry & apply Ritual Tattoo Healer in VERY thin layer...
3 times a day first 3 days
2 times a day for next 2 days
Once a day for balance of 2 weeks
– in between, do not let the tattoo get dry. If it feels tight or itchy, you need to reapply RITUAL.